A new adventure in sight for Benjamin de Molliens: the bivouac flight! Thanks to Fab's experience, these two days were able to take place in a tandem flight, enough to make all paragliding novices and neophytes dream! So here we go, let's dive into the heart of the matter!
Day 1:
I left Lyon early and arrived at Annecy station around 9am. Isabelle, who works at the tourist office Les Sources du Lac, welcomes me on the platform. We go straight to meet the Flyeo team in Doussard. The sky is blue, the lake even more so, this little adventure looks like a good one.
When I arrived at Flyeo, I met Laurent, my contact for several months now. Then Max and Fabien. Fabien is the boss. With a big smile and a lot of energy, he puts me at ease right away. For two days, he will be my guardian angel. It's with him that I'm going to live my first paragliding trek, a kid's dream. Max, who accompanies him, also intends to become an instructor. The introductions are done, let's get on with the action.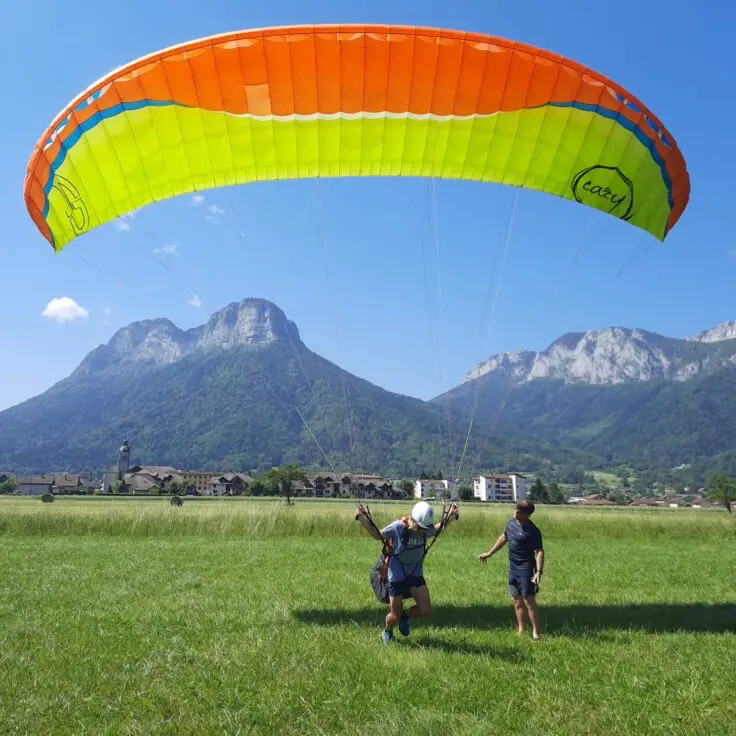 Before we start our journey, Fabien and Max offer to teach me, on the landing zone, some exercises in handling the wing on the ground. We start with a classic paraglider, i.e. a wing that has an outer and an inner layer, more specifically a top and bottom surface. I put on the harness, take the levers and take off running. It pulls! It's not easy to get the wing up, let alone stabilize it over my head. The movements to do are not so natural. But by dint of trying, I end up succeeding. This ground run is called the chicken run, simply because with my arms back and my chest forward, I look like a chicken!
I then test a single-skin, less bulky and especially much lighter than a classic wing. The reason? It doesn't have a bottom surface. The difference is amazing. Everything is lighter and simpler! The single skin is the ideal companion for the paraglider hiker, who just wants to make a descent to return once he has finished climbing.
It's midday, time to leave the landing zone and head for the Col de la Forclaz. Not by car, no, but on foot, with classic wings and harnesses on our backs. The bags are heavy! More precisely between 10kg and 20kg. Inside? The wings of course, including a two-seater, but also our stuff and food for dinner and breakfast.
We take a path that starts directly from Doussard. It climbs steeply! Here we go for 730 meters of positive difference in altitude. It's hot and I'm sweating profusely. Despite the effort and the heat, we have a great time with Max and Fab. We get to know each other. Modest, I'm dealing with some big names in alpine sports!
After 1h30 of effort, we reach the take-off. From here, the view of Lake Annecy is breathtaking. The place is crowded with many paragliders in preparation. This take-off is very popular with the local paragliding schools and structures.
To get there, they use vans.
Fabien tells me that during the season, each van makes an average of 10 round trips in a day. But there are about 60 of them! That's no less than 600 round trips per day! The impact of this sport on our environment is anything but insignificant. That's why we wanted to walk. Paragliding has been a dream of mine for a long time, but I want to limit my impact and promote this activity in the most responsible way possible. Of course, you can't do as many flights on foot as you can in a car, but the experience is all the more beautiful and deserved.
1, 2, 3… Take off! In just a few steps, we take off into the sky of Annecy with Fabien. I'm flying !!! What a magic… But also a lot of apprehension. Many paragliders and hang gliders surround us. And when I look down, I get a feeling of vertigo. Fabien reassures me and I quickly feel better. We walk along a wall while flying over a forest of spruce trees. It's magical.
The day's objectives are numerous and ambitious: the summit of La Tournette, the Dent de Lanfon, the crossing of Lake Annecy, the Roc des Boeufs, the Trelod and finally the Charbon refuge for the night. Thanks to the columns of warm air, called thermal ascents or simply thermals, we quickly gain altitude. You can spot them by observing the terrain or other paragliders, and even the birds. Once inside, you turn in a spiral to climb. With his experience and his technique, Fabien brings us to the top of the Tournette in 45 minutes! From 1150 meters of altitude, we are already at 2351 meters! We fly over majestic ibexes. Up there, it's still very snowy. Max, who took off solo just after us, joins us. We head towards the teeth of Lanfon and then we start crossing the lake.
When roaming, the technique is as follows: you gain altitude close to the mountains, since that is where the hot air columns are. Once you are high enough, you start crossing to the next relief.
You have to calculate carefully so as not to arrive too low, otherwise you are forced to land!
Depending on the glide ratio of the wing, i.e. the horizontal distance it can cover for one unit of vertical distance consumed, you lose more or less altitude during a crossing. Our wing has a glide ratio of 9, which means that when we cover 9 metres horizontally, we lose 1 metre vertically.
Fortunately, with Fabien, I am serene. We reached the Roc des Boeufs without a hitch. Then we start surfing the air currents along the wall. It's crazy. Then we start a new traverse. This time, towards the Trélod.
We then have one last obstacle to pass before reaching the Charbon refuge. If we don't pass the pass, we'll have to finish on foot! Fabien passes the obstacle with flying colours. We then see the refuge, a chalet full of character in the middle of a green pasture.
After 2h30 of flight, it's time to land. Fabien asks me to warm up my ankles so that I don't hurt myself when I hit the ground. A few meters before landing, he also invites me to stand up. I do it a bit late and then I go rolling in the grass. More fear than harm, we laugh out loud. Max joins us soon after.
It feels strange to put your foot down again. We fold up the wing and take up residence. The place is maintained by a small association, the TAC, acronym of Tous Au Charbon. That evening, 3 volunteers join us from the valley. On the menu, it's a Savoyard fondue prepared by the mountain restaurant l'Avalanche in an almost zero waste way. Reblochon, Beaufort, Abondance, Chignin Bergeron white wine and chocolate mousse. I feel welcomed like a king. I also understand why our bags were so heavy! After a sunset at the summit, we all spend a wonderful evening together. It's time to go to bed.
DAY 2:
A gentle wake-up after 8 hours of sound sleep. The sun is shining, we enjoy our breakfast. Then it's time to set off for the summit, our wings on our backs.
When we get there, the view is splendid. Some clouds start to form. But this is of no consequence as the objective of the day is simply to get back to the valley.
1, 2, 3… Here we go again! What a pleasure to fly again! The descent is great with the lake in the background. Max comes to fly beside us, a moment of winged camaraderie. After a few minutes, he swoops down towards the landing zone of Doussard, right next to the Flyeo building.
It was our turn to get involved. Fabien then began a series of spirals and loops, also known as barrel rolls. Everything accelerates and I lose my bearings a bit. It's impressive and very exhilarating. I think we're getting up to 4G. I love it and my screams are there to prove it! A few seconds later, we land. This time I don't miss and this crazy adventure ends smoothly. We fold up the paraglider. Time for a debriefing and a little syrup in a café.
What an adventure, what madness! In two days, I must have said the word "incredible" thirty times, I was so overwhelmed. What a joy it was to realise this childhood dream alongside such engaging and experienced people. All this of course while respecting as best as possible some of my favourite ecological rules, like zero waste.
"A big thank you to Fabien, Max,... Laurent and all the others who contributed to this epic adventure. You have regaled me!"

Benjamin
About Benjamin:
Benjamin de Molliens started at the end of May 2020 the project Expedition Zero, a series of travelling sports adventures that follow 3 rules as much as possible: Zero Carbon Emission, Zero Waste and Zero New Material. All while having fun!
After 5 expeditions in one year, cycling, hiking, SUP, running and kayaking, Benjamin was keen to try his bivouac flight. In November, during the 2nd confinement, Benjamin also launched the eco-citizen challenge #nettoietonkm. This challenge has gone viral and has received a lot of media coverage. Its aim is to encourage as many people as possible to take an interest in ecology and to take action.