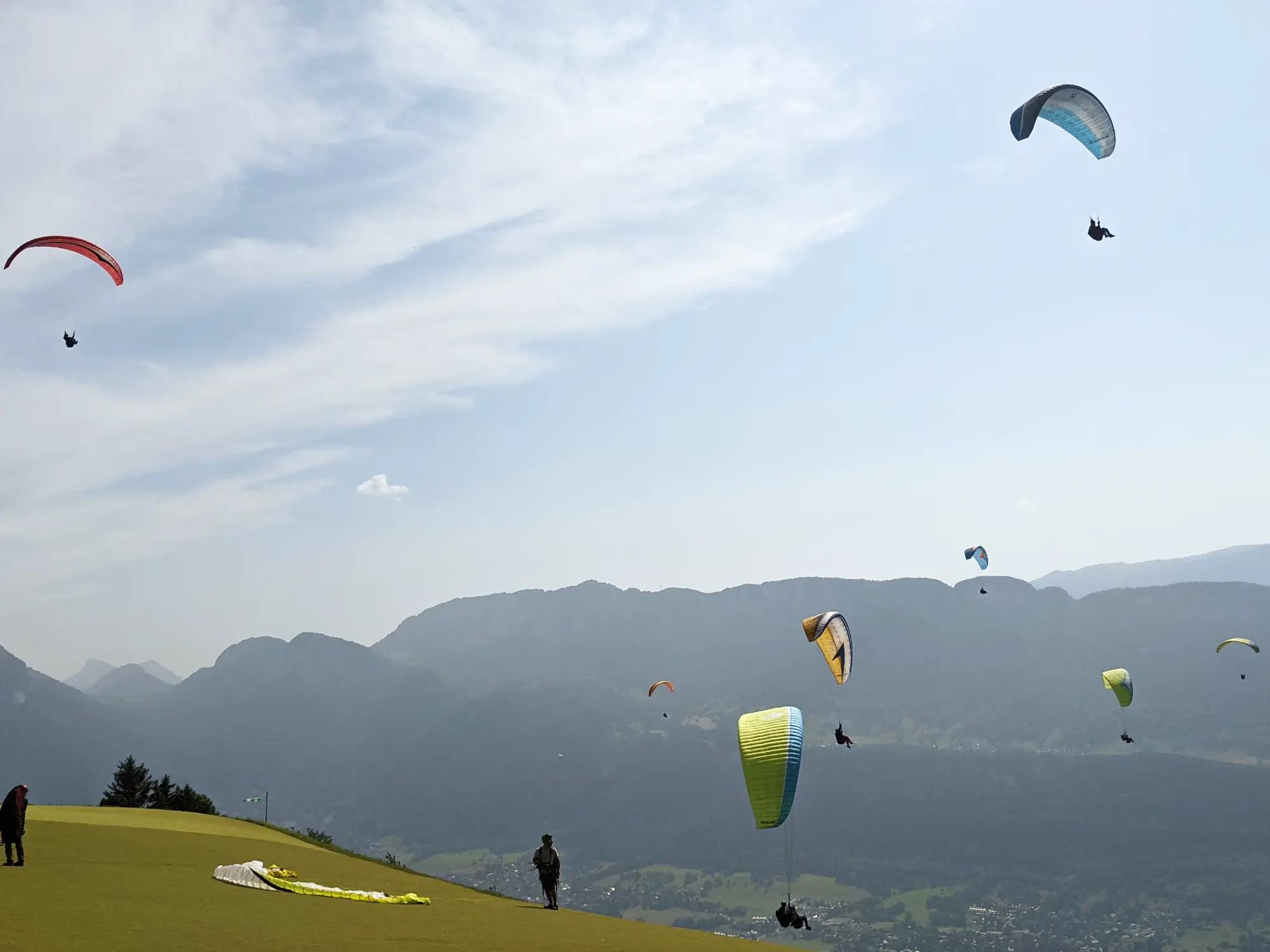 Five reasons why there is so much Paragliding in Annecy
Flyeo explain the five key reasons why there is so much paragliding in Annecy.
Come to Annecy between May and September and look up from the Lake. You will be surprised to see so many paragliders gliding gracefully through the sky. Sometimes well over 200 to 300 hundreds! You may ask yourself:
Why is there so much paragliding in Annecy?
Annecy reigns as the paragliding capital of France, thanks to Haute Savoie being the birthplace of the sport, its ideal geographic location, robust tourism infrastructure, and Lake Annecy's many advantages for paragliding enthusiasts. Moreover, multiple takeoff points are available to fly from all day long.
We tell you more below…
1 – Haute Savoie, the french department Annecy is located in, is the birthplace of paragliding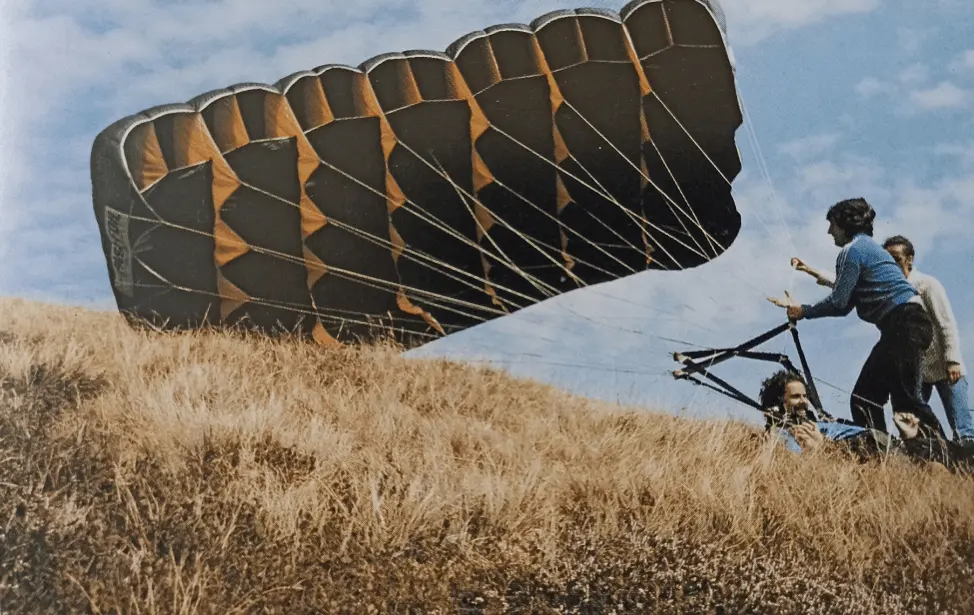 Situated in the French Alps, Haute Savoie is widely recognised as the birthplace of paragliding. The sport was invented in 1978 in Mieussy, a small town in Haute-Savoie, by a group of parachutists from the Anemasse club who wanted to explore the sensation of flying freely in the air. These pioneers used a modified parachute canopy as a way to prolong the glide along the slope, and their innovative approach sparked the creation of what is now known as paragliding.
In fact, the french word for "Paragliding", "Parapente" is a portmanteau world for "parachute de pente" or "slope parachute".
Today, Haute-Savoie continues to be a hub for paragliding enthusiasts from all over the world who come to experience the breathtaking views and ideal flying conditions offered by the region's stunning natural landscape. Annecy at the heart of Haute Savoie is widely recognised as the French, if not European capital of Paragliding.
2 – The geographical setting of Lake Annecy is particularly suited to Paragliding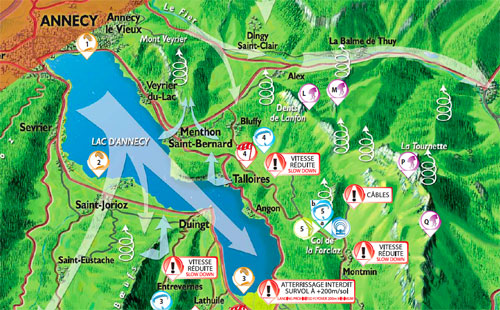 Lake Annecy enjoys a unique aerological setting that makes it a prime destination for paragliding enthusiasts. The lake benefits from a local microclimate that creates optimal flying conditions for nearly 300 days a year. Thermals, which are the rising columns of warm air that paragliders ride up to gain altitude, are abundant. The wind is moderate, facilitating take off all day long and thanks to a phenomenon known as valley breeze, the wind blows mostly from the North East which greatly helps paragliders gaining altitude when they surf the south West facing ridges as well as heading South towards the landing field.
In addition to the favourable aerological context, the location of Lake Annecy also makes it an ideal destination for paragliding. The lake is surrounded by mountain ranges, creating a natural setting that offers a stunning panoramic view contrasting lake and mountains. Moreover, the location of Lake Annecy at the North of the Alps means that paragliders can enjoy clear views of the mountains, including Mont Blanc, which is located 57 kilometers from the town. The combination of the ideal aerological context and the stunning natural surroundings make Lake Annecy a premier destination for paragliding enthusiasts, whether they are beginners or experienced pilots.
3 – Annecy and its Lake are particularly well suited for tourism
Lake Annecy is a premier tourism destination, attracting visitors from around the world to its stunning natural surroundings and charming towns. In 2019, the region welcomed over 1.6 million visitors, with tourism accounting for a significant portion of the local economy. Visitors are drawn to the area for its picturesque lake, surrounded by mountains and forests, as well as its historical and cultural attractions, such as the Château d'Annecy, a medieval castle overlooking the old town.
To cater to the needs of the many tourists who visit each year, Lake Annecy offers a wide range of facilities, including hotels, restaurants, campsites, and recreational activities. The region has over 3,000 tourist accommodation establishments, ranging from luxury hotels to budget-friendly hostels, providing visitors with a range of options to suit their needs and preferences. Moreover, the area offers a diverse array of recreational activities other than paragliding: hiking, skiing, and water sports provide tourists with a wide range of options to choose from during their stay. Therefore, Annecy, its lake and surrounding villages offer a perfect holiday destination for solo pilots and their family as well as people that want to discover the sport during a tandem paragliding flight.
4 – Lake Annecy is a wonderful playground for would-be pilots to learn and progress in paragliding
Paragliding around lake Annecy involves, soon enough, flying over Lake Annecy. It's a totally magic experience, flying above the turquoise water of the Lake, several thousands feet above the ground!
It's also a refuge, when conditions are too strong! When thermals are booming everywhere around the lake and it becomes a little too much, pilots can fly towards the center of the lake where there is generally far less or no thermic activity at all, calming things down.
Finally, many schools teach advance piloting techniques (known as SIV) above lake Annecy. During such courses, If something goes wrong, pilots, wearing a life jacket and under the supervision of qualified instructors that are on a boat on Lake Annecy, can always throw their reserve parachute reserve knowing that they will land safely in the water and be picked up right away by the boat..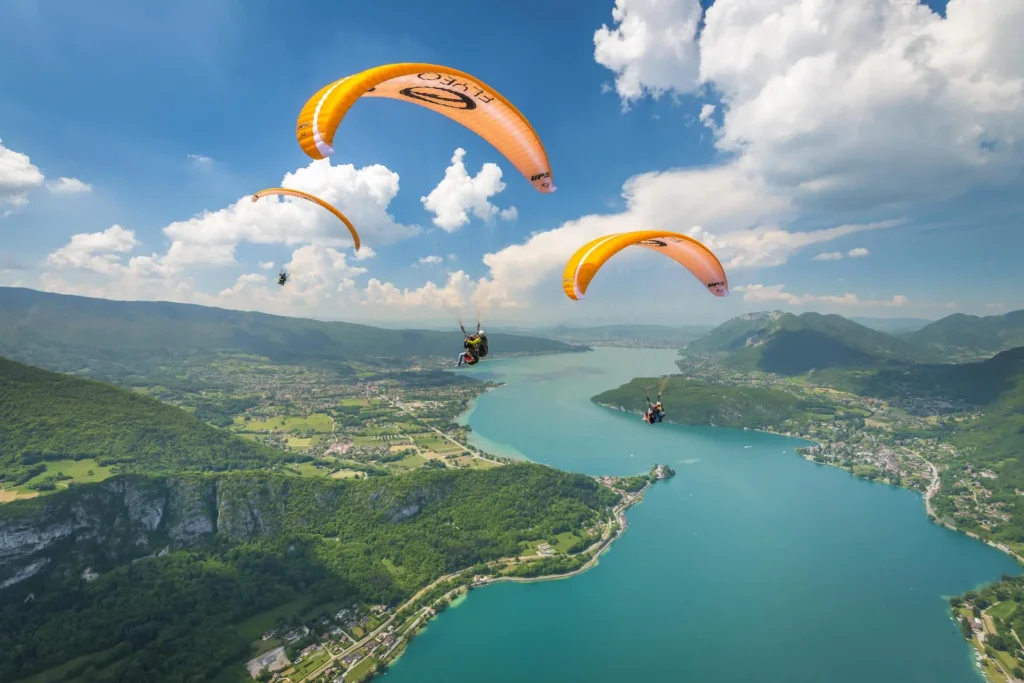 5 – There are many different take-offs around Lake Annecy suited to all kind of Paragliding flights
An abundant number of take offs, some well known, other less so are there for paragliding pursuits. To name but a few:
Col de la Forclaz is the most popular paragliding takeoffs around Lake Annecy. Located in the village of Montmin, it's of 1,150 meters high and offers a panoramic view of Lake Annecy and the surrounding mountains. Col de la Forclaz is suitable for all levels of paragliding flights, from beginners to experts.
It's also the main tandem paragliding take off and where most people will fly from when discovering paragliding
Planfait: The second most popular takeoff is located near the village of Talloires and offers a stunning view of Lake Annecy. it's perfect for intermediate and advanced pilots who want to practice soaring and cross-country flights. Tandem paragliding is also possible from Planfait.
Col des Frêtes or La Tournette are other take-offs. They can only be accessed on foot after a hike and are higher. They offer stunning view and are very popular with people that practices Hike & Fly.
---
Here you have it, these are the main reasons why there is so much Paragliding in Annecy. We hope this has inspired you to take the plunge: try paragliding during a tandem paragliding experience, if you have never tried it out. Or come to Annecy to fly one of the most beautiful spot in the world, you won't regret it!