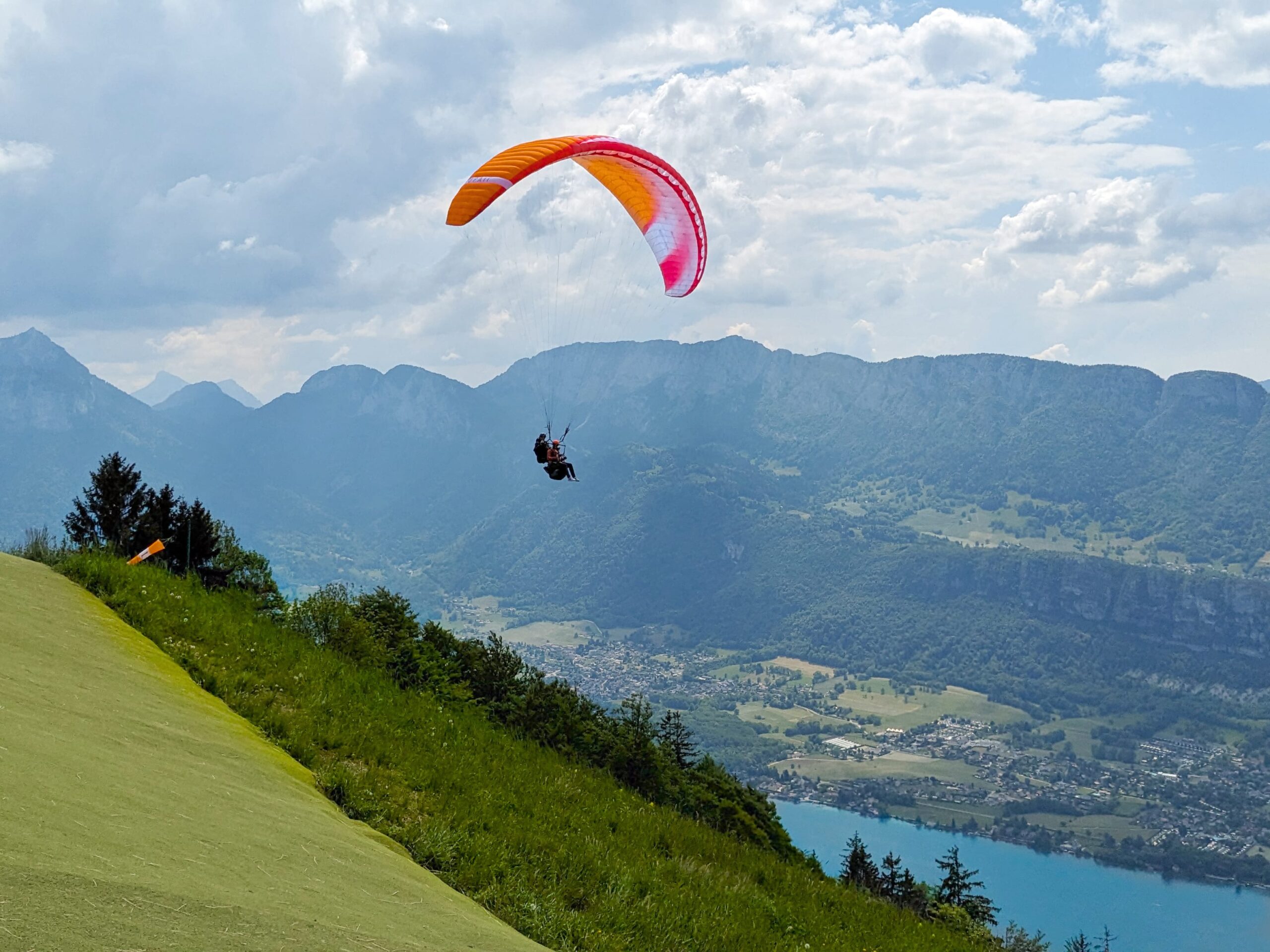 How much does tandem paragliding cost?
We look into the factors that determine the price of a paragliding flight and provide you with a price comparison for Annecy
A tandem paragliding flight costs 120 € on average in Annecy. Depending on the type of flight and the school you choose, the price varies from 80 € to 175 € for a typical flight. We tell you more below and show you a price comparison table for Annecy at the end of this article.
We are often asked how much does a paragliding flight cost? And why does the price differ so much? Let's look at the three main factors that influence the price of a paragliding jump: the type of tandem flight you choose, the place where you take that flight and the operating costs of the company you select for your experience. We explore them in details below:
1. The type of flight you choose impacts the cost, essentially based on the flight length
All paragliding schools offer more or less the same types of flight. They typically reflect the paragliding experience, the length of the flight you want to have as well as the flight conditions that fluctuate during the day.
The lowest cost is typically on the shortest and calmest tandem flights: the Discovery tandem and the equivalent for the younger passengers: the Children's tandem flight.
These two flights are what we call in paragliding "a top to bottom", that is to say directly joining the landing field from takeoff, in a more or less straight line. When the conditions are calm in the morning and thermals are not yet installed, paragliders can not gain altitude and therefore, these flights are shorter.
In Annecy, taking off from La Forclaz, these flights lasts nonetheless about 15 minutes and will take you over Lake Annecy for stunning views.
Children's flights are typically slightly cheaper than Discovery flights (about €5 lower). However, unlike a "children's menu" in a restaurant, for example, whose lower price can be justified by smaller portions, in the context of paragliding, a children's tandem flight is in fact one of the most delicate because pilots must demonstrate a more adapted pedagogy and manage light weights requiring more technique. But these decreasing rates for children are in line with the common expectation that children pay less and this leaves an opportunity for the little ones to discover paragliding — better get them young!
Thermal tandem flight is the next up in the price range. The name says it all: when there is thermal activity (from 2pm typically in season), pilots can use these rising warm air currents to gain altitude and consequently, the flights are longer. They offer the opportunity to visit the reliefs and mountains surroundings Lake Annecy.
Thermal flights usually lasts between 20 and 30 minutes and costs between €20 and €30 more than discovery flights. At Flyeo, this is by far our most popular flight.
Come next a flight type that presents the same characteristics but lasts even longer. The Prestige tandem flight lasts about 40 to 45 minutes and costs between 50 € and 65 € more than the Discovery flight. Most schools generally offer a single time slot dedicated to this flight, typically in the middle of the afternoon when the thermal activity is at its peak and paragliders can fly longer. On the Lake Annecy region, when conditions permit, it is possible to make a mythical paragliding course: "Le petit tour du lac" which sees you flying around the lower Lake area above the surrounding mountains.
Finally, the last type of flight generally on offer is about the same price as a Prestige flight. It's the Sensations tandem paragliding flight. This is the one to choose if you want to shake it up! Indeed, this flight is focused on performing paragliding aerial figures, subjecting pilot and passenger to several G of pressure. Think aerial rollercoaster in 3D. It is shorter than the others because aerial manoeuvres cause rapid altitude loss.
But e-v-e-r-y second is well enjoyed…
2. The place where you take your flight
Prices fluctuate a lot depending on where in the world you do your paragliding tandem flight too. Looking in Europe only and comparing apple to apple, here are the average prices of a Discovery tandem flight in six European locations:
Tenerife (Spain) = 90€
Annecy (France) = 100€
Courchevel (France) = 210€
Crète (Greece) = 140€
Interlaken (Switzerland) = 170€
Reykjavik (Iceland) = 240€
Unsurprisingly, there is a marked difference based on where you take your flight. This is partly due to the popularity of the Paragliding activity in that location in particular, but also to the difficulty of organising tandem paragliding flights there (access to the sites, tourism infrastructure, etc..). The cost of living in some places of course also explains these differences. It is therefore easy to understand that there is a large gap between Switzerland (Interlaken) and Spain (Tenerife), for example.
Price wise, Annecy is in the low average. There are indeed many schools in a region where the cost of living is average (compared to the rest of Europe) and where organising tandem paragliding flights is quite simple since access to take-off and landing is easy.
3. The operating costs of the company you fly with
It stands to reason that not all schools have the same operating costs. It follows that prices fluctuate according to the costs associated to providing the service.
It is important to explain that the largest chunk of the price of a paragliding flight is paid to the pilot which is flying you. And so should it be, since he's the one who does most of the work!
The rest of the operating costs is linked to the number of "non-flying" staff who supervise the activity. Think of the person who greets you on your arrival and after your flight but also the "nafteurs" as we affectionately call them, the people who drive you to take-offs in the shuttle. They all work hard for your experience, before and after your flight, to be exceptional and they deserve a fair salary too.
Another key operating cost for all structures that offer tandem paragliding flight is related to their physical location. A number of schools' main activity is teaching paragliding to solo pilots that want to learn and improve their flying skills. They do this all year-round. It is Flyeo case and also the case of Les Passagers du Vent ou Les Grands Espaces.
As to be expected, with a dedicated, permanent office, with private access to toilets, a dedicated indoor space to chill (unlike some structures that are only present in summer and operate from small temporary wood huts) as well as staff hired year-round, the operating costs are different and can might influence prices.
Price comparison table for tandem paragliding in Annecy
To finish our overview about the price of a tandem paragliding, we wanted to offer a quick price comparison tables looking at a number of structure operating tandem paragliding flight in Annecy so you don't have to manually compare.
It's important to emphasise that whichever structure you select, your flight will be fabulous and unforgettable, and what's more, your pilot will have the experience, training and competence to make you discover paragliding.
We nonetheless invite you to look at reviews and feedback from past passengers to make up your mind when selecting your school.
Here is the price comparison table for tandem paragliding in Annecy
* Please note that Photos & Videos are included with all flight with Adrenaline and Les Grands Espaces
So, are you ready to go for it? Book your tandem paragliding flight with Flyeo now!