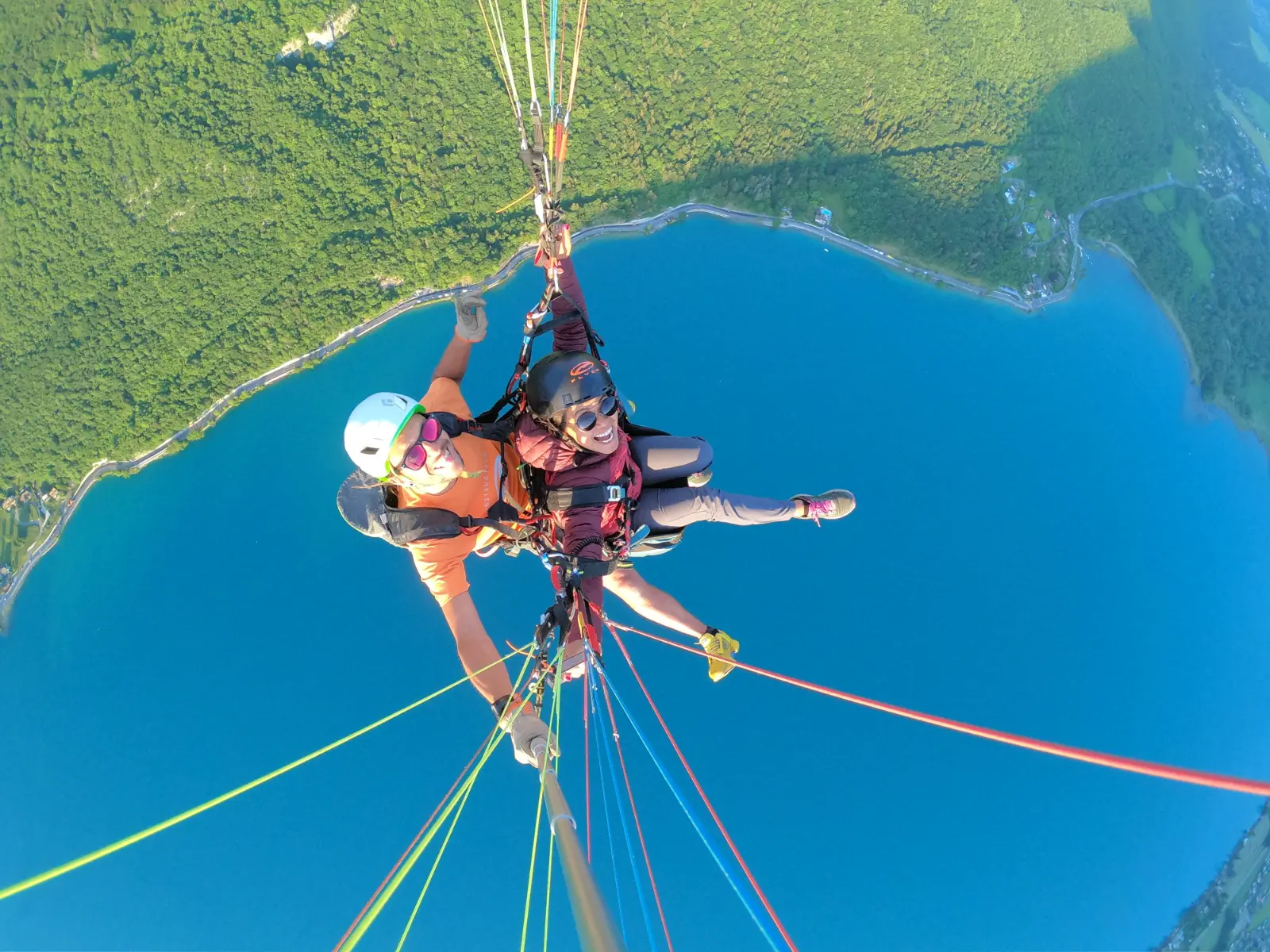 Tandem Paragliding Annecy
Experienced English-speaking pilots. Choose your paragliding flight over lake Annecy with Flyeo
Discover the pleasure of flying
There is nothing closer to flying like a bird than Paragliding. Come and share a tandem paragliding flight with one of Flyeo's experienced pilots over the most beautiful flying location in the world: Lake Annecy. A truly unique experience you won't forget!
Do you have a question, do you need help? Don't hesitate to contact us here!
Children's tandem flight offers ideal calm conditions for your child
For the young first-time flyer, the Children's Tandem paragliding flight is perfect! Let your children experience the most amazing views of Annecy in the calmest and safest conditions. To ensure your peace of mind, all of our pilots are fully qualified paragliding instructors.
Age: from 3 to 12 years old
Passenger weight: 40 kg maximum
Flight duration: about 15 minutes
When: every day until midday
Discovery tandem flight is ideal to discover the sensation of flying in calm conditions and enjoy the view of the lake underneath.
If you want to discover the sensation of flying, the morning conditions will be ideal to get a taste of paragliding and enjoy the view gliding down over the lake. A Zen flight for a big adventure!
Age: from 12 years old (or 40 kg minimum)
Passenger weight : 40 to 80 kg
Flight duration: about 15 minutes
When: every day until midday
Thermal tandem flight is for those who want to gain height and enjoy an exceptional view of the region.
If you want to get a real taste of paragliding, to understand how to gain height and experience breath-taking views of Annecy Lake, this is the experience for you!
Age: from 12 years old
Passenger weight: from 50 to 110 kg
Flight duration: about 25 minutes
When: every day from midday
Prestige tandem flight is for those who want to take a real ride in the air above the lake and the mountains.
At the peak of the day, embark on a real aerial ride along the Dents de Lanfon cliffs or near the Tournette's top, cross the lake and gain a lot of height. This long ride gives you plenty of time to truly experience what it feels like to soar through the wind!
Age: from 12 years old (ou 50 kg minimum)
Passenger weight: 50 to 120 kg
Flight duration: about 40 minutes
When: every day at 3pm only
Sensations tandem flight will make your head spin: G-force and acrobatics are on the menu!
With some of the best acrobatic pilots in the world, Flyeo gives you a taste of "acro flying"! Strong sensations and adrenaline guaranteed on this exhilarating flight filled with g-force and speeds up to 100km/h !
Age: Adults only
Passenger weigh: 50 to 80 kg
Flight duration: about 25 minutes
When: every day from midday
Flyeo answers all your tandem paragliding questions
Tandem paragliding is highly safe, comparable to hiking or running, and 15 times safer than driving. Solo paragliding under instruction is also safe, but leisure solo paragliding presents more risk, although there are ways to mitigate it.

Come to Annecy between May and September and look up from the Lake. You will be surprised to see so many paragliders gliding gracefully through the sky. Sometimes well over 200 to 300 hundreds! You may ask yourself: Why is there so much paragliding in Annecy?
Annecy is paragliding's world capital. Thousands of pilots come to explore the sky around Lake Annecy every year. In fact, paragliding was invented a stone's throw away in Mieussy towards the end of the seventies and evolved from there.
What's more, the Annecy bassin presents a special topology particularly suited to paragliding. The main sites are in fact sheltered from the prevailing winds by the local mountains and therefore, it is typically possible to fly paragliders every day from May to Septembre.
Did you know that lake Annecy is France's cleanest? With the local surrounding mountains, La Tournette, Les Dents de Lanfon, the Bauges Massif and Le Semnoz to name but a few, you are offered a breathtaking panorama that you can take in from a unique viewpoint: a bird eye's view!
Flyeo is first and foremost a paragliding school that has taught pilots how to fly paragliders for over 15 years. We offer paragliding courses for pilots at all levels.
We strive to exceed expectations and want to make sure our passengers receive top service. We consistently score over 4.5 out of 5 stars in customer satisfaction.
Unlike most other operators, we have our private space, with a sunny terrasse, where we welcome you. Here you will meet your pilot and receive the safety briefing while your friends and family can chill until you are back.
A local company operating from the south of Lake Annecy, we are proud to support local businesses such as Glaces & Cows that provide the beautiful artisanal ice creams that you might sample after your flight.
Tandem paragliding is extremely safe. While Paragliding is considered a "risky sport", paragliding in a professional or commercial context has a very low incident risk. Pilots are highly experienced, have flown thousands of hours and hold of the required national certification as well as being fully insured.
Security is obviously our top priority. Which is why we provide an extensive briefing prior to each flight: it includes a thorough safety explanation but also outlines what you can expect from your flight. Our pilots check the conditions at the beginning of each day an re-evaluate them before each flight. Please do not be offended if we decide to postpone or cancel a flight due to non-optimal weather conditions, even if you see other people flying. Security is paramount and we will never decide to take off if we judge the conditions inappropriate.
Flyeo runs well over 2,500 tandem flights a year and, after fifteen years, have no passenger incidents to deplore to date.
Nothing to worry about, there is no such thing as vertigo in paragliding. It all has to do with the inner ear and the fact that your feet are not on the ground when you fly (of course!). Most people that typically suffers from vertigo have no problem doing a tandem flight.
Fear is typically linked to situations we don't feel in control of and can be conquered by explaining them. Our qualified and highly experienced pilots will explain what is going on, every step of the way, therefore easing you into the flight. And while paragliding can seem impressive, the feeling of gliding through the air is actually quite peaceful.
It very much depends on the kind of experience you want. In paragliding, there is something for everyone.
If you are looking for a peaceful flight where you can admire the lake and the mountains as you glide through the air, we recommend a Discovery tandem flight for adults or a Children's tandem flight for the young ones.
Did you know that paragliders use rising columns of warm air to gain altitude? If you want to experience this, we recommend an Ascendance tandem flight during which you will thermal up in the sky. You will gain height for an even more impressive view taking in from the city of Annecy to the nature reserve at the end of the lake, from Talloires to Duingt.
What about getting the grand aerial tour? Choose the Prestige flight and your pilot will take you around the neighbouring mountain peaks before flying over the lake to the landing field.
Are you a thrill seeker? You like to feel the g-force and the spirals, choose a Sensations baptism and you will see that paragliding is also a sport that releases adrenaline!
Yes, if you want to control the paraglider, your pilot will happily put you in charge so that you feel how the wing responds to inputs!
Depending on the flight you have selected, you will be airborne from 15 to 45 minutes.
Yes, unfortunately, this is the main joker card in paragliding. A paraglider doesn't fly well when wet, which is why rain or a strong chance of rain means we don't fly. Clouds however are not a problem. In fact, white fluffy clouds are a sign of an excellent day for paragliding as they indicate the presence of thermals that allow us to stay afloat longer!
If the wind is too strong or not from the right direction, taking off can also prove difficult, another cause of no-flying days.
At Flyeo, we always re-confirm tandem flights the evening before the planned date. Paragliding is a weather-dependent sport but rest assured, that if you can't fly on your booking date, we will reschedule at the most convenient time for you.
You don't need to go to the take-off site on your own. Meet us at Flyeo, not far from Lake Annecy "voie verte" (cycle path). We will ride together to the take-off site using our shuttle bus, a journey of about 20 minutes.
After your flight, we land at the official landing site in Doussard and walk back to Flyeo in a few minutes.
Yes, first off, all our pilots and passengers wear a safety helmet. Similar to a bike helmet, we will lend you one for your flight.
We also recommend that you wear sensible shoes. You might need to take a few brisk steps to take off, it is best to avoid flip-flops and to wear suitable footwear (closed-in shoes, sneakers or trainers).
Even on a sunny, warm day, with the air speed and the altitude, it can be a little nippy up there, so we recommend you wear a jacket.
And of course, on a sunny day, don't forget sunglasses and sun cream!
What does a tandem paragliding flight consist of?
A tandem paragliding flight is about allowing passengers to discover paragliding in a safe environment with an experienced qualified pilot. You will typically meet your pilot at the paragliding school and will get the shuttle to the paragliding take-off site. Prior to your flight, the pilot will give you a thorough briefing, not only to explain how to stay safe but also what you can expect from your flight. You will then get ready to take off. A few steps and you will be gliding through the air.
The length of your flight will typically depend of the experience you have selected. Once completed, you will be landing at the designated official landing field. Landing is very easy, you will approach the ground at walking pace and when the pilot tells you, will just need to walk off the speed. And voilà! A successful beautiful paragliding flight done!
The experience will then complete when you are back at the school's meeting point, where your family and friends have been waiting for you.