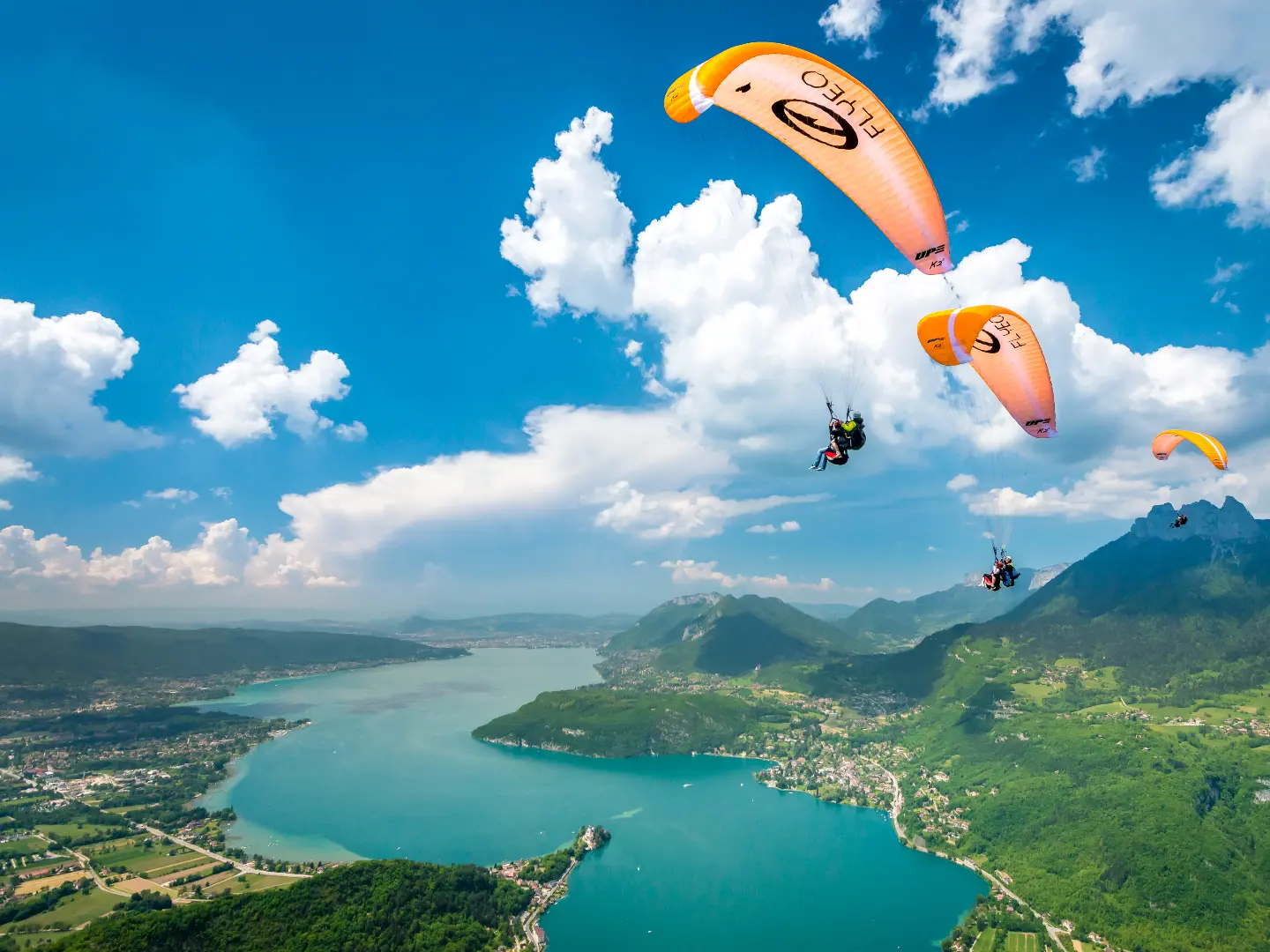 Here is what to expect from your tandem paragliding flight
Still not sure? We tell you how a tandem paragliding flight around Lake Annecy works
We are often asked how a tandem paragliding flight takes place. Flyeo is very proud of its customer service. We only ask you to meet us at our address 15 minutes before your booking time. We then take care of everything, you just need to relax!
Still hesitating? We explain here how a tandem paragliding flight takes place and what sensations you can expect to feel during this unique adventure.
Lots of people assume tandem paragliding is an extreme and dizzying activity, for which you either need a huge dose of madness or lots of courage. But in fact, tandem paragliding with experienced pilots are incredibly safe and very zen!
Let us explain how it all works out…
Wether on a daily hike, during your vacation or a weekend away around lake Annecy, your destination should be the Col de la Forclaz, a mythical site for free flighting in France and a real must-see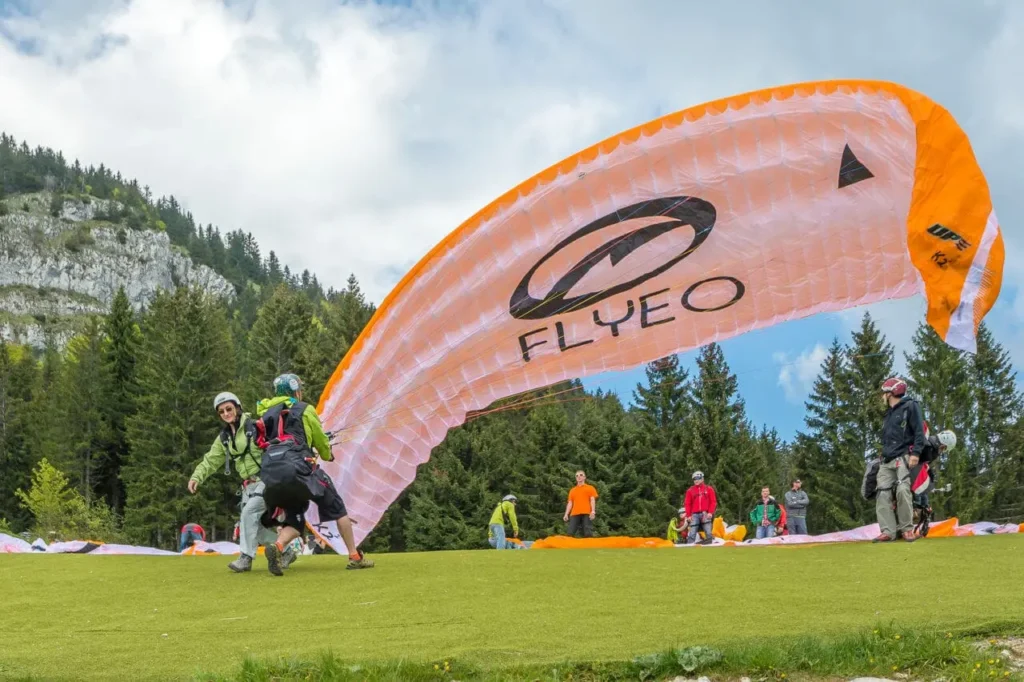 Once at the top, it is impossible to miss them! A few hundred wings are in the air. Some very close to the ground, others so far high that it is difficult to distinguish them against the blue sky.
A magnificent and silent aerial ballet is being played in front of your eyes. It makes you dream. He intrigues. The decision is taken. You want to take part in this wonderful show.
At the time of booking, our paragliding school proposed different types of tandem flights:
Discovery and Children flights take place in the morning and last 10 to 15 minutes.
Thermal and Prestige flights allow you to gain altitude and discover the make scenery from a new angle. The Thermal paragliding tandem flight lasts around 30 minutes, while the Prestige paragliding jump lasts around 45 minutes.
What type of flight will you choose? The Thermal flight is ideal for a first experience, since it allows you to discover all the phases of a paragliding flight. That's the reason why it is our most popular flight..
The next day, you are meeting us at our school located in Doussard, just a fes minutes away from the official landing field. In a relaxed atmosphere and far from the hubbub of summer, you then meet and get to know our tandem pilots and our team.
After checking the equipment and personalised instructions, pilots and passengers board the shuttle. Direction: take off.
The journey takes about 25 minutes, which is plenty of time to ask your pilot everything you even wanted to know about tandem paragliding and Annecy.
Once at the top, there is no time to think. Your pilot equips you with a harness, a helmet and takes a few photos to immortalise the moment. Adrenaline makes your heart beat faster and faster as you are about to take to the air.
It only takes a few brisk strides forward, the pilot raises the wing above your heads, you feel that it pulls you up. A few steps later, your feet leave the ground and you are flying!
You then find yourself floating in the air, about to live the unforgettable experience of a paragliding flight. You admire the magnificent mountainous landscape around you, the blue lake under your feet. The feeling of freedom that flying only can provide.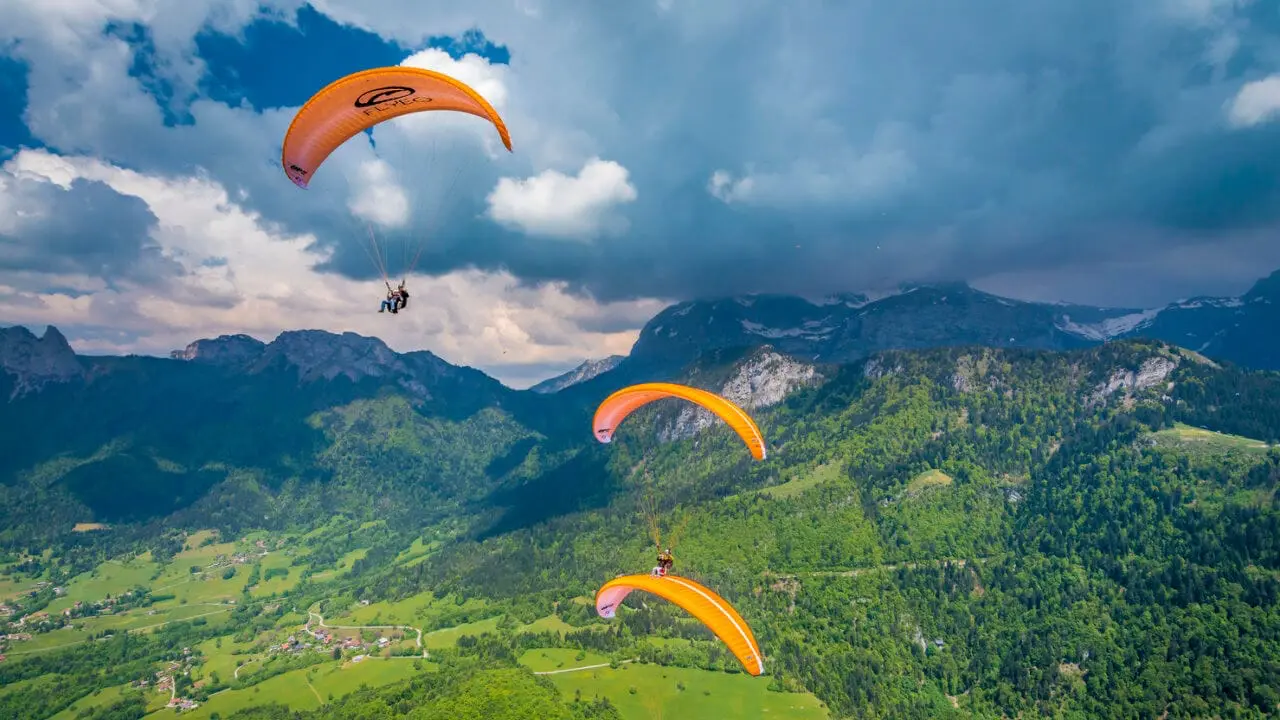 Some become aware of the immensity of the world, others let go. You feel more free than ever. Installed in a comfortable armchair, you are now surfing on waves of invisible air.
Every element around you is new. The mountain to your right offers surprising details, you can study the rock, its vegetation and sometimes even come across animals. Often birds (golden eagles, vultures, buzzards) show the way and fly with you.
Once you have enough height, you can see Mont Blanc. On the left, Lake Annecy presents itself to you in a dazzling blue. You ride over hot air currents alongside other paragliders and their passengers. You are now part of this aerial ballet.
A few thermals and a beautiful glide later, and it's already time to get back to earth. The landing is smooth.
The adrenaline is at its peak, it is often hard to get back to solid ground. Your instructor then folds the sail and you get back to our school, well it all started. A relaxed cool space is at your disposal, you can then watch your photos and videos on screen.
The adventure is already over. Full of new memories, it will surely be the most exhilarating activity done around Lake Annecy!
Leaving the ground and flying slowly through the air: It is among the most vibrant things one can experience. A unique and unforgettable experience.
Crédit: Tristan Shu
Would you rather see a video?