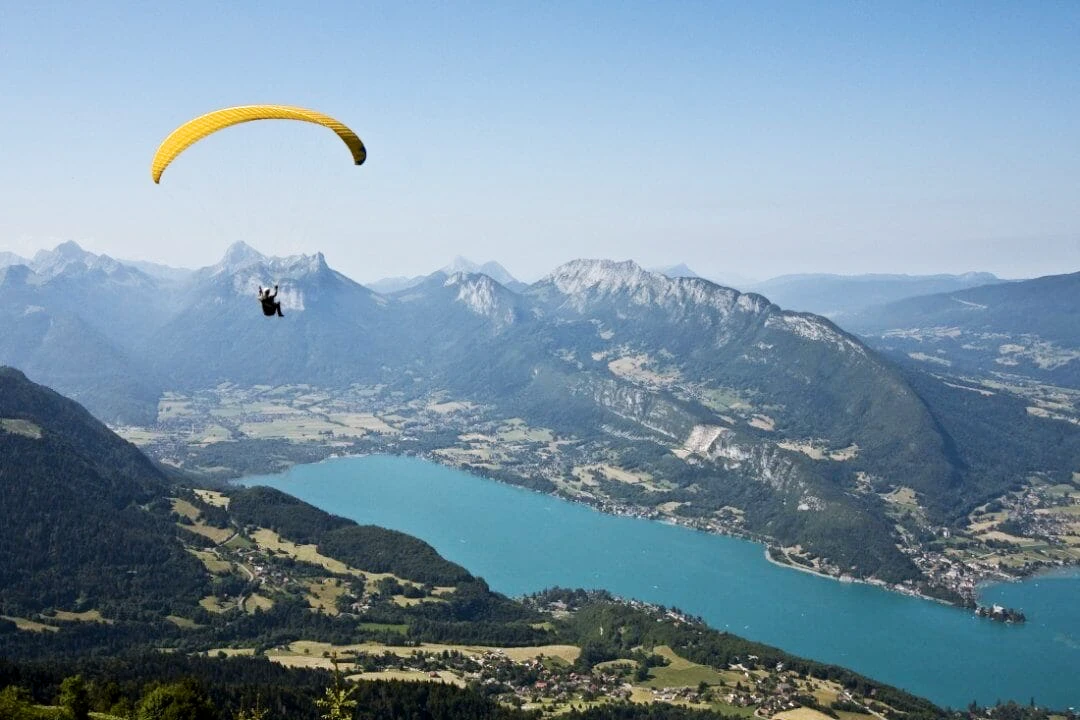 Initiation course: we tell you everything
All the information you need to prepare for your initiation course
Are you ready to touch the dream of Icarus over the most paragliding lake in the world? This will be an intense week physically and mentally but incredibly rewarding.
we will have a lot of skills (practical and theoretical) to teach you during this week. Therefore, every minute counts!
Come with your game face on, put your best foot forward (literally) and everything will be fine.
What is planned over the week?
Your programme will, of course, depend on the weather conditions at the time. But here is a "classic" schedule.
Each day starts between 7am or 8am and ends around 5pm.
In the morning
We start the day with ground handling, the basic practice to learn how to fly your wing on the ground. This is usually done in the Doussard landing field. Once the instructors ascertain that you are ready to handle a take-off (between Tuesday and Thursday), it's now your turn to fly solo.
In the afternoon
On a typical day, weather conditions in the afternoon do not allow us to practice outside (as the air is very lively for beginner level at this time of the day). This part of the day is reserved for learning the theory: we take the opportunity to review the videos of your ground handling or morning flights. This is to continue your progress and to pin point areas of improvement. We will also discuss theoretical subjects related to your practice.
Your first flight…
"No stress, the instructors are there!
One instructor will accompany you to the launch to take off for the first time. The second one will guide you from the landing by radio until your return to the ground. A magical moment in complete safety!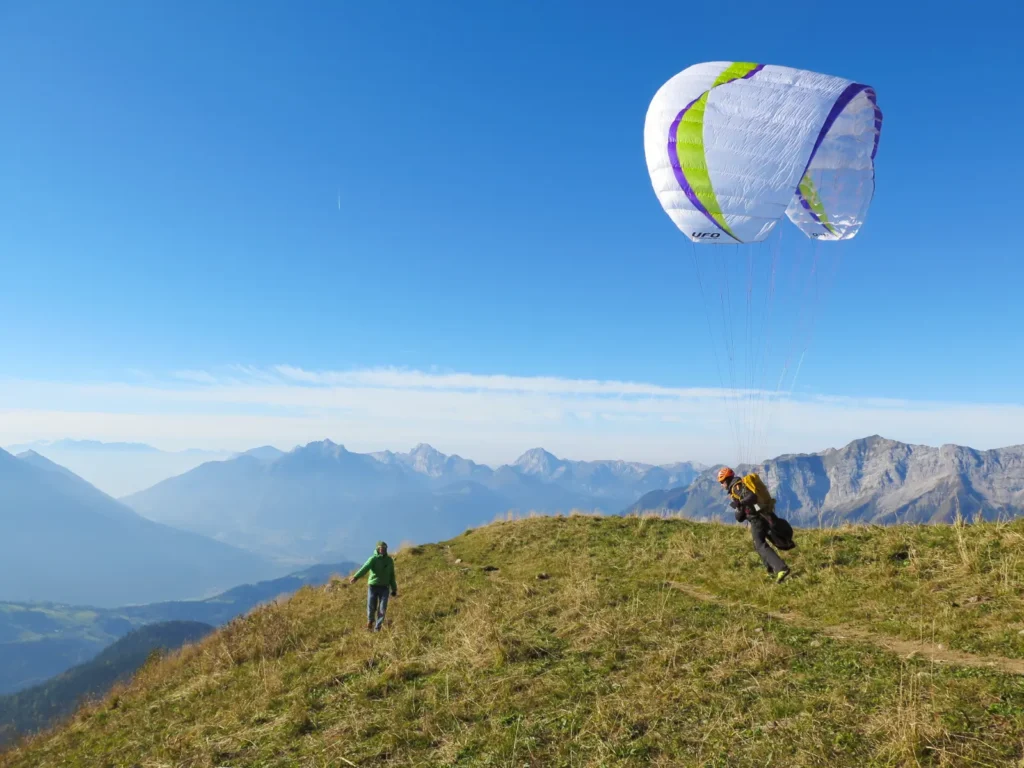 How to get ready for your course?
It is important to have a medical certificate (stating you're fit & healthy) and to validate your licence with the FFVL. If you have these we will be ready to start ground handling as soon as you arrive.
Here are the instructions to obtain your FFVL licence.
During the week., we will be covering the following topics:
Flight The mechanics: why does a paraglider fly?
Building a flight plan.
Meteorology and aerology.
Practice framework (insurance, regulations, your Federation for example).
Air speed, ground speed and glide ratio.
It is super important you come ready. Don't forget the following:
Your sunglasses
Sunscreen
Thin gloves
A long-sleeved top
2 pairs of closed shoes (preferably trainers) as the grass is wet in the morning and your feet will be soaked!
Take a picnic and water for each day. Also a snack for those afternoon munchies!
Our teaching method
Paragliding is a sport of sensation; we need to experiment to progress and discover. We are here to accompany you in your personal objectives and to guide you towards the associated safety aspects of free flight.
The Flyeo plus
Your progress is completely personalised. We will be attentive to your needs and adapt to you!
Towards autonomy…
Our goal for the week is to help you progress safely while giving you the keys that will one day lead you to full autonomy.
If you have any questions, please feel free to ask them via this contact form.
"We look forward to welcoming you to this new flying world!
Régis & Barbara